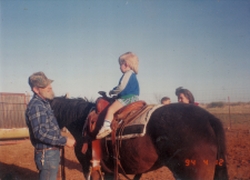 September 28, 2014
this is Mimi here....
.....thinking of you today Spencer.....wondering what you would be doing, if you were still on eart ,where we are. We are confined to only seeing what is happening here....Are you confined to only what is happening where you are... or .... are you capable of knowing what we are doing here? You may already know this but..... you remember that I use to see a lone white dove, after Popeye passed over and 6 months before you left? I would see it and it would always lite on the ground in front of me, turn around ...look at me for a minute and then fly off. There was always only one. It would happen on a regular basis and it was always a comfort to me and I knew there was life beyond what I could see or touch. Wes has seen him and one day your Aunt Val and Uncle Ken saw him. I haven't see him for several months and one day there were 3 white doves who flew over and dipped down but never touched the ground. I tried to find them but couldn't. It was puzzling me...because I didn't know why there were 3 in place of the usual one. It was several days later and I tho't Oh I know...one is for Spencer, one is for Shelby and the other one is for Richard. Both of your grandpas are there with you now. Somehow I just never tho't about it that way, until then. I'm glad they are there with you, but we sure miss you all down here. Death of your physical bodies, can not separate us from each other tho....you all live on with us, even tho we can't see or touch you.....you are very much alive with us....you are a part of us forever ....you are in our heads and in our hearts....and we can't wait til we see you again. For now...I'll be thankful that you were ready when your number came up. Remember a few hours before you left and you told everyone you were number 100, in line? haha That is still funny to us! I'm sure we have a number too...we just don't know what it is yet. If we don't get our number soon....talk later.
Love you Spencer!
Mimi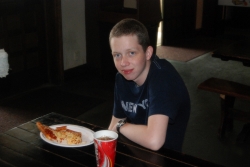 August 13, 2014
Wow, how the time flies. You've been gone 7 yrs and I still see you in more ways than one. I see you in blue eyes when I look at people yet your eyes are the bluest. Your quietness and dry sense of humor has come to my mind more This year than in the past. Funny how you remember these things at different times. I remember how your were the person on crutches and yet you were the one who opened the doors for others. And on your make a wish trip how we had to run to keep up with you. You were so amazing ! You will forever live in my heart. I love you to the moon and back.
Love you,
Nannie Taylor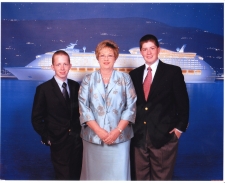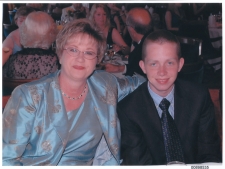 August 13, 2013
It's been 6 years today that you left us and I still miss you. What a special young man you were to all who knew you. I know that you must be enjoying your Pappaw Taylor now in heaven with you. I can see you that day in November when you met him at those Golden Gates and all the things the two of you had to say to one another.
Aunt Stef and I and Uncle Jamie and the little boys went to eat at Shoguns here in Richmond in celebrating your life. I remember the look on your face when they set he grill on fire and you never flinched. I saw that in Taylor's little blue eyes as well as he exclaimed, Wow! You are and always will be my special Angel.
Love you,
Nannie Taylor

September 28, 2011
Hey Spencer...yes, it's been a very long time since I've left a memory on here but since today you would have been 20...oh my gosh... I can't be old enough to have a child that would be 20! I can't help but think about all the birthday's when you were growing up...do you remember how dad used to always take you and Zachary to McDonald's while I set up the party at home? Balloons, cake, presents, treat bags...and then when you came home...surprise!! The funniest part was when you both started asking when it was time to leave for McDonald's so I could set everything up! Today, I look back on those days...thank you for allowing me to keep with my "tradition" and playing along, that was very sweet of you and Zachary! Dad told a joke when we went to Shoguns tonight...he said "how many moms (meaning me) does it take to change a light bulb?" Are you ready..."One. She holds the light bulb while the world revolves around her". Yes, I can hear you laugh!
Love you Spencer.
Mom

September 28, 2011
September 28, 2011, makes it your birthday! You would be 20 years old today. Wow, that is hard to realize. It was just the other day that Papaw and I were talking about you and this age. I ask him if he'd ever thought what you would be doing at this time in your life? He without hesitation said, "He would be in college." I have no doubt of that. We always knew how intelligent you were.
We went to your favorite place to eat tonight in honor of your birthday. I can still see you the first time we took you to Shogun's, sitting in that high chair and the look in your eyes when the chef lit the fire on the grill. It was those beautiful blue eyes that I remember so vividly. They are with us always. Happy birthday Sweetheart. We love you so much.
Nannie and Papaw Taylor

August 13, 2011
I wasn't going to say anything but..".We still miss you Spencer! It's been 4 years now since you lost the battle to Cancer but it's not because you didn't put up a good fight. I don't think I could have been as brave as you were. You left this world very peacefully and we know where you are and we wouldn't take that from you and ask you to come back. I wonder one thing...will you be 15 forever? That's really not fair if you get to be 15 and I have to be 70 something when we meet again. ha ...probably won't be that way.. I'm just thinking with an earthly mind....it's all I 'got' right now. TTYL Spenc!"
Love you, Mimi
PS... Fly Spencer Fly....We know you are!

August 12, 2011
Tomorrow on Saturday, August 13th it marks the 4th year of your passing. I am reminded on that day that Papaw and I were driving home from Houston, Tx, after visiting your Aunt Stephanie and friends when I got the call from the social worker that you were in your last hour of life.
For the past 5 months I have been living in Houston at Stephanie and James home while they were in Washington due to the twins coming 3 months early.
Again on this day, I will be travelling back home to Midland, Tx. from Houston.
I am still reminded of those beautiful blue eyes that melted my heart every time I looked at you.
Every time we see the full moon we are reminded of when we had gone to eat that night with Frank and MaryAnn and you were with us and as we turned in the alley heading to the garage you said, "Oh Look Papaw, It's a big old full moon."
You are still in our thoughts and prayers EVERY SINGLE DAY. You will never be forgotten as you brought so much joy and love to all of us.
With all our love Sweetheart!
Nannie and Papaw Taylor

September 28, 2010
A Hallmark memory of Spencer who would have been 19 on this day.
"When You Fly"
When you walk... God will guide you.
When you run... God will sustain you. And when you fly... Yes, when you fly... God will take you places you never dreamed. Have a ...wonder-filled birthday.
Wish we could see what you see and fly with you, Spencer.
Love you forever, Mimi

August 26, 2010
This came from Harry, one of Spencers best friends. He just graduated from McKinney Boyd and is headed to Berkley. On the last day before he left for California he and Justin, (Spencer's other best friend), met at the cemetery at Spencer's gravesite. On the photo below is what Harry gave Justin to bring to us. This was apparently a project that the class Spencer and Harry were in did at Dowell Middle School we think during 7th grade. Somehow when the writings were taken down from the wall this ended up in Harry's Backpack. He has kept it all this time but decided to give it to us before he left for college. We think it speaks for itself. (if you have trouble reading it, click on the picture to enlarge it)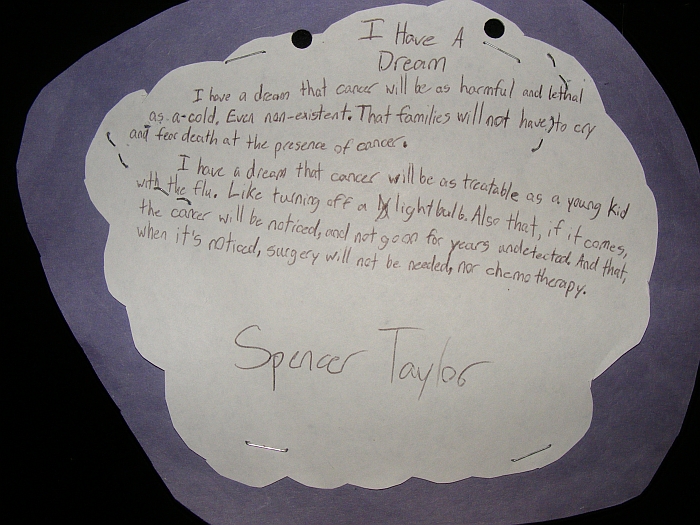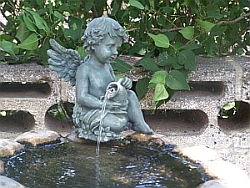 August 14, 2010
I just added this angel to my bird bath , in honor of Spencer. It is something else to remind me of him. There are memories everywhere....this just adds to those. RIP Spencer. I know you are. Save a place for all of us.....OK?
Love from Mimi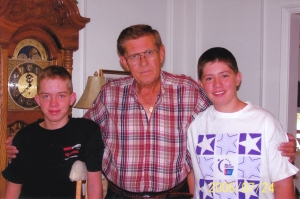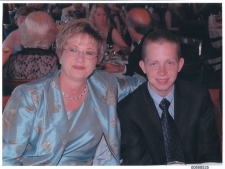 August 14, 2010
Today marked another year without you and it just never gets any easier. We still miss you so much. You are so special to us. Normally on your birthday we go to Shogun's to eat but today in your honor Nannie and Papaw went there to eat tonight. Nannie still sees those beautiful blue eyes in everything she does, and You are still Papaw's Hero. We love and Miss you!
Nannie & Papaw Taylor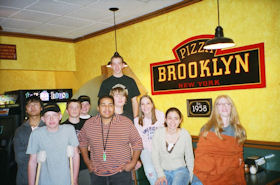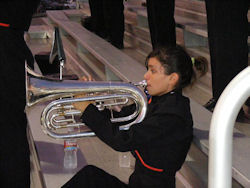 March 22, 2010
Hey Spencer. It's been awhile. The band is running relay for life for you. We'd be graduating together this year. I'm sorry you never had the chance...but you accomplished so much for such a short life. I know you were grateful for everything...which is why you didn't deserve your fate. But you taught everybody a life lesson, if that's any comfort. I'll never forget sitting next to you in English. Thank you for all the great conversations.
Sara

February 28, 2010
A few weeks ago the band was told what happened to a Boyd band student. They sat in silence for a few minutes for everyone to think and remember what it is like to go through losing a band member. When they started playing the first song they played was Ave Maria. I immediately thought about Spencer and the short time I knew him, such a great kid.
Megan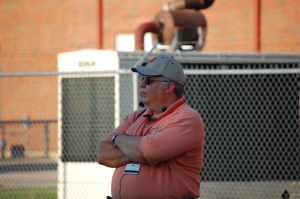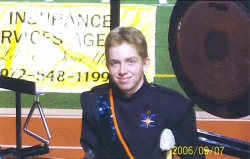 October 30, 2009
This is a story shared with Rhonda by Mr. Harkey, Spencer & Zachary's band director. During UIL Marching Contest (the band's most important marching contest), the band was assigned a warm up area in the parking lot prior to their performance. Shortly after the band began warming up, the Plano West Marching Band showed up in the adjacent warm up area. As Plano West began warming up the first thing they started playing was Ave Maria. There was no particular reason for them to be warming up with that song, it wasn't part of their show, it was just the song they decided to warm up with. Mr. Harkey said as soon heard the first couple of notes he nearly lost it and broke up. He said it took him a little while to get it together a little and said that if anyone had seen him entering the stadium shortly after that they would have thought that this director sure does get emotional for these contests. You see, Ave Maria was the song that the band played at Spencer's Funeral and it was also a part of the band's marching show for that entire season that was dedicated to Spencer. Mr. Harkey said that hearing that song was how he knew that Spencer was still with us.
It is great for us to hear that people still remember how Spencer touched their lives.
Memory from Alan Harkey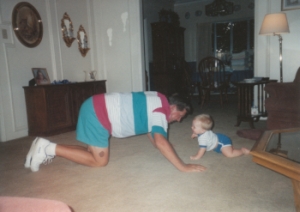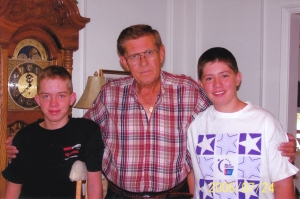 September 28, 2009
Happy Birthday Spencer
Love,
Papaw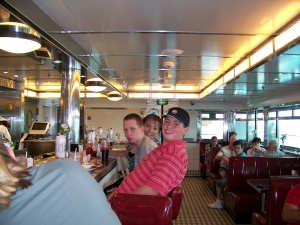 September 28, 2009
Today is Spencer's 18th birthday, and although Nannie is in Houston I am not able to go eat at Shogun's which is your favorite place. I did go shopping today at the Katy Mills Mall and in there I was reminded of the time we were on our cruise to Italy and I saw they have a Johnny Rockets cafe. I did not eat your favorite chicken sandwich but I did enjoy the burger I had and had the best memories of you and our trip together. That was such a fun time on our trip eating at Johnny Rockets wih you and Zack on the cruise ship. Happy Birthday Sweetheart!
With all my Love Forever,
Nannie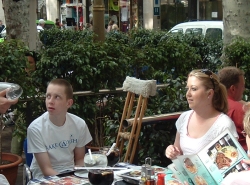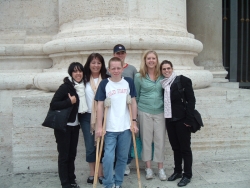 August 13, 2009
Spencer,
Look at how much time has passed and yet it seems like only yesterday. I wish you could ask me the question you asked me two years ago. I would love to tell you all the wonderful things going on in my life but I still feel like you are the mastermind behind all of this. Thank you for whatever you did and are still doing, thank you for opening my eyes to a wonderful world that my heart couldn't see. I would say that I wish you were here but I know you are and I feel you around me all the time. I have been wanting to tell this story for over a month and I think today is the day. July 3rd we were in New Mexico and went to a church called Chimayo in Rio Arriba it was beautiful and it was said to have healing powers in the soil, we went to see and sat in the Chapel for a while and admired the paintings and wood work. Every time I enter a church now it is hard to not think of our trip to Italy and the many churches we saw, but every once in a while I get a special feeling about one. We exited through a side door called "the room of souls" people tend to leave things there mementos, pictures, poems, etc. As I looked along the wall I noticed something, a lot of something's. They were crutches, they lined the wall, I am sure to symbolize that someone did not need them anymore. And then I saw them, there was a pair of wooden ones. Alone among many metal ones. It hit me like a ton of bricks like you were there with me as I sat on the pew. I felt sad, happy, alone, and together with you all at the same time. I miss you, thank you for reminding me you are with me and letting me know you are there. everywhere. My goal today is to eat pizza, and make it through. That is all I expect from myself today and I am comfortable with that.
All my love,
Aunt Stef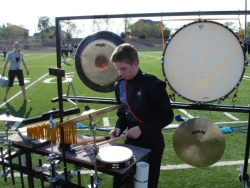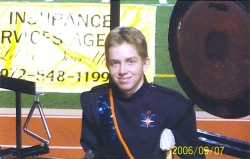 May 12, 2009
This is a story written on the day of Spencer's funeral that one of the applicants to the Spencer Taylor Memorial Scholarship used for her McKinney Education Foundation scholarship application.
When the pressures of school, marching band, National Honor Society, and college applications begin to overwhelm, it is easy to get tunnel vision and become caught up with the unimportant details of life. I learned this hard lesson first hand. I became stressed in my attempt to juggle more than I could handle and stopped reaching out to the people around me. It wasn't long before I lost my balance and my perspective of life. Ironically, it was one young boy that I never took the time to get to know that changed my life and taught me a very important lesson.
When Spencer entered the band program, he looked like all the other kids. He seemed to be just like every other freshman that year and was not anybody that I needed to take the time out of my busy schedule to get to know (or so I thought). However, Spencer was anything but ordinary. After being diagnosed with cancer at a very young age, he grew up with a very different life than that of most teenagers. He missed school often for chemotherapy treatments and walked with crutches because of the damage done to his leg by multiple malignant tumors.
Although Spencer was forced to cope with many setbacks and hardships, he never let the smile fade from his determined face. When the tumors in his leg prevented him from marching on the field with his trombone, he did not throw in the towel. Instead, Spencer joined the drum line and was the first to memorize his music learned while playing in the stationary pit. As soon as our daily practice would end, Spencer would hobble on his crutches to the front of the mob trying to get to the air conditioned school to hold the door open for everyone carrying large instruments. He never even seemed bothered by the many kids who would rush past him who never took the time to utter a simple, "Thank-you."
During Spencer's final weeks, he never gave up. He still came to practices when he didn't have Doctor appointments and continued to plunk away on his xylophone, never complaining about the battle waging inside of his body. Because he always had a bright smile on his face and a funny joke to tell a captive audience, nobody realized how truly sick he was. Even when I heard that his condition was worsening, I always believed that he would find a way to pull through. He was too young and loved life too much to succumb to this horrible disease.
On August 13,2007, at the young age of 15, Spencer lost his battle with cancer. When I heard the news, it seemed surreal. It not only was a life taken away too soon, but I had never taken the time to know him. Although given many opportunities over that year, I had been too absorbed with my own miniscule problems to take the time to reach out for his friendship.
A few days later, I went to a candle light memorial in Spencer's honor. At the memorial, nearly one hundred kids stood together, huddled under the bright moonlight to tell their favorite "Spencer Stories." Although I didn't have any stories to contribute, I listened intently, trying to get to know the young boy that I had previously brushed aside. Some of the stories were sad, while others were hilariously funny, yet each managed to capture Spencer's enthusiasm for life.
Over the past year, the pain has healed and I am left with a newfound appreciation for life. My own problems seem trivial in comparison to the hardships other people face, especially to those of one young boy who never let his smile fade, even as his condition worsened.
I am happy to say that Spencer has changed my life for the better. He didn't simply disappear into the recesses of my heart like a faded memory, instead, he taught me to get to know everyone around me, never knowing who would change my life for the better. He has become my inspiration to go through life with a smile on my face and an optimistic attitude for everything I set out to achieve. And although I missed the opportunity to know Spencer in life, his death has forever changed my life by opening my eyes to appreciate the wonderful world around.
Nikki Cassidy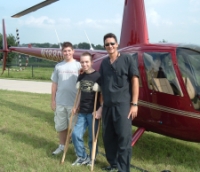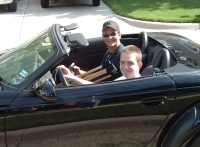 May 5, 2009
I have a picture of you on my mirror behind my sink at home that I see every morning and a frame of pictures at my workstation that I see every workday. I rely on those pictures for strength and encouragement everyday. You are more than a memory, because the gift of your perspective lives in me everyday. I am sorry when I fall short and get down or frustrated, I never saw that in you. Thanks again for the gift of your friendship. Just like I used to say when you would leave the clinic sometimes " I love you Spence "
"Fly Spencer Fly,
Mark Linane

March 8, 2009
Yes Mimi, I find myself constantly grieving for our Spencer. I am reminded of him in many conversations, actions and quirky little smiles. I recall a time when our children were living in Oklahoma and we went to visit them. Papaw and I were in the kitchen with Spencer and we were looking at a book. The picture was of an Eagle. Papaw made a comment about his feet. Our Spencer said, "Actually Papaw, those are talons." Every time I hear the word "Actually" I see his face. It brings a smile to my face and then the tears flow. I listen to the words in the song, "Homesick" by MercyMe and I know he is in a better place and how many times have I heard that but my heart is still hurting everyday. He is still with us as I feel his presence many times. I can never forget those beautiful blue eyes and that precious smile.
Forever his Nannie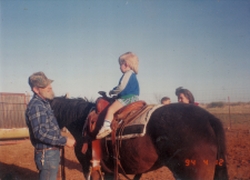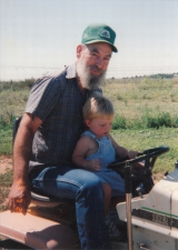 Feb 15, 2009
Does anybody else out there catch yourself grieving all over again for Spencer? I wasn't even thinking about him ,then all of a sudden the tho't of him flooded my mind. I went to the site and started reading some of the comments and it is as if I had never read them before.....I know I have but it is like the first time I have read them. Maybe this is the way the grieving process works. Maybe a person's mind can only absorb so much and then it sort of ceases to comprehend anything else at that point...sort of shuts down. We probably couldn't deal with everything all at one time and maybe that is why people grieve in different ways at different times and different amounts of time. I know that Spencer and Shelby (Papaw) are in a place that is so totally awesome. If we could somehow see where they are, I think we would be so happy for them....I think we would be so happy for them ,that we would forgot about our loneliness for them. I know that isn't possible right now but I know that some day we WILL be able to know where they have gone before us. I look forward to that day when we can see them again. I never understood what people meant about having memories of your loved one...until now......they are continually with you and no one can take them away. There are so many of them and things come to mind that you have forgotten......some of them make you laugh and some of them make you cry. They are forever embedded in your mind, never to be removed. Some day we can talk about it to them, but for now they are living in a different realm, a higher realm, than we are, and I really am happy for them but I am still really missing them here.
Forever in my heart and mind.
Mimi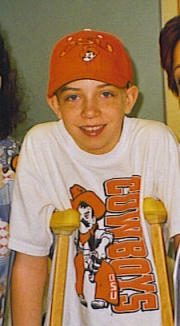 Nov 7, 2008
I know you like OSU Spencer, but no cheating this Sat., remember your friend Rylan #74 is playing for Tech.
Mark Linane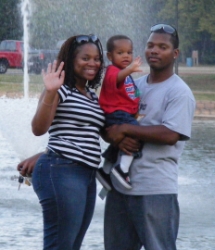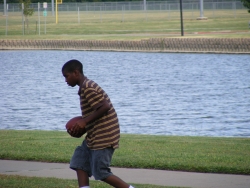 Aug 28, 2008
Dear Mr. and Mrs. Taylor,
First let me introduce myself. My name is Lukresa Dardy. I am a new band parent. My son D'Marcus Lee is in the 10th grade at MNHS.
Now with that said, I am going to share with you how your son and your family have touched my heart in an unexplainable and profound way.......
As I just stated, I am a new band parent for the 2008-2009 school year. That means that I did not have the privilege to meet your son Spencer. However, I have found myself today sitting at my desk (at work) crying my eyes out like he and/or your family are close friends of mine. I know you may think that this is weird, but let me explain how I came to this point.....
I opened an email from Mr. Harkey this morning to find out that I need to pay for my son's band meals that I knew nothing about. My first thought was "Great! More fees! :( " I was so annoyed, because my family is on a really tight budget right now and "surprise bills" or fees due seem to be the theme for us this month. Then I thought about how excited my son was when he told me he was going to be in the marching band. Of course, that means that I am going to pay the fee no matter what! ;)
My next thought was to go to the website and try to order some spirit items (yard sign, t-shirt, etc.) While on the MNHS Band website I started looking at pictures from last year thinking I can't wait to get pictures like these of my son and our family as we participate in his band events this year! While exploring the website I came across the page that started out "In Loving Memory"...... As I read the article, I remembered seeing you (Mr. and Mrs. Taylor) at the parent meeting last week. I remember you mentioning your son and the scholarship fund. When Mrs. Taylor stood up and spoke last week I could hear the strength in her voice as she fought back the tears. Even then I was touched by your courage. Honestly, I didn't give it anymore thought until today when I saw the pictures of Spencer.
From the MNHS website I went to your family's website and read ALL the memories that were posted there as I listened to Spencer's playlist with a lot of my personal favorite songs on it! I started crying and I just couldn't stop! Maybe I am crying because I am WAY too emotional, which may also be the case. But, I was thinking how hard it would be for me if it were one of my sons.
Then it dawned on me that I had actually sort of met Mrs. Taylor at the lake a few weeks ago. She was taking pictures of the kids and stuff. Then she came over and spoke to me and told me how cute she thought my youngest son is (Christian). Then she asked if she could hold him and I said sure. I was thinking...."Christian is not going to go with this lady!" He is usually rude to strangers. :) Then without hesitation Christian went to you (Mrs. Taylor)! I was so surprised! I told my husband, "I can't believe he went to her?" I looked over and he was playing and talking to you like he had known you his whole 19mths of life! :) Then, later you asked to take a picture of me, my husband, and Christian standing by the water. I didn't want to take the picture because I wasn't looking my best. You know, a woman thing! hehehe! :) But, when you told us that we were a beautiful family I was like o.k. what the heck! :)
I hope that you will send me the pictures you took, so I can have them to remember that day forever!
Anyway, I just wanted you guys to know how your family has really touched my heart today! I am just mesmerized by your strength! After reading all the memories of Spencer, I really wish I would have had a chance to meet him. He seems like he was such a blessing to everyone that came in contact with him. I feel just a little bit closer to GOD today just by reading about him and I thank you and Spencer for that! :)
It also sparked tears when I read the memory of Mrs. Taylor and Spencer seeing the angels.... My boys use to play and talk to themselves all the time when they were little and I use to tell people that they were playing with the angels. I have always believed this and your story pretty much confirmed it!
You do not have to post this (unless you really want to) because I know it's pretty long. :)
Sorry about that, but I was trying to share my spiritual experience that your family has created today. :)
God Bless and stay encouraged!
Lukresa Dardy
MNHS Band Parent (D'Marcus Lee)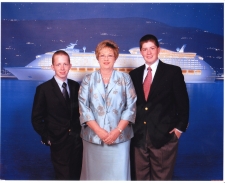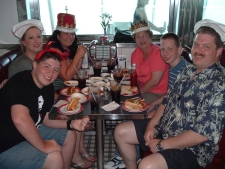 Aug 13, 2008
As I woke up everyday this week I had you on my mind. With the one year anniversary of your passing it is still so vivid in my mind, the events of that day. I remember every word of the conversations of that day as well. I was in disbelief when the social worker called and said that you were in your final hours of life.
Later when I called your Dad he said that they did not understand what happened but that you were back and explained to us that you were sitting up and talking and asking questions and that your friends and other family members were there visiting with you. I was elated but frightened and confused as to what was going on.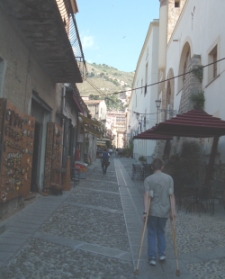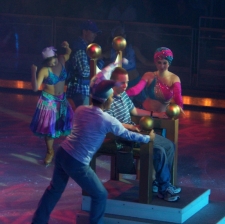 I have so many times tried to interpret what happened. You owned the day. You were granted those hours to speak to all whom you loved and those who loved you so dearly. Those heartstrings still tug on me and not ONE single day has gone by that I have not thought of you.
I go back to those days we spent together on our cruise to Italy. How handsome you and your brother looked in your suits and ties. How I enjoyed you sitting beside your Nannie at our evening meal and what fun we shared at Johnny Rockets. I will never forget how we ran to keep up with you - and you on your crutches! And the smile that was on your face when you were the guest of honor at the ice skating show down on the ice on your throne. ha!
The day we went to the Vatican at the Pietà, where Mary was holding Jesus. It was there that I prayed to God to take my life and spare you yours. I love you that much. It had to be the Holiest place I have ever been and I felt this aura all around us.
As many do in these times, I had lost faith in God. I could not understand how he could let this happen to you. How he had shared his Son for 30 years and we were robbed at only 15 years with you. Through your conversations on that day with your Mother, when you were in that "other place" before you came back that afternoon, you Spencer showed me that there is truly that "better place" that so many have said you are in. You restored my faith in the Lord, but I still would have taken your place had God allowed me to do so.
I felt that the next day when Papaw and I reached the hospital that we would get to see you and I wanted to tell you something else. I never got to have that conversation with you and yet I will live to regret that. I'm sure that you know what it is, as I tell you everyday.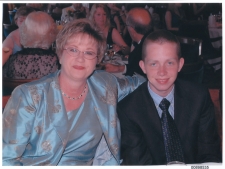 Always and Forever,
Your Nannie Taylor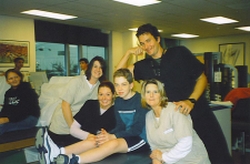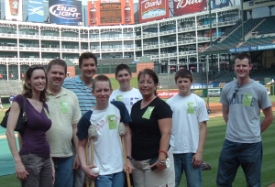 August 13, 2008
That SMILE -- it could light up a room. My fondest Memory of Spencer is the smile on his face despite the pain he went through in PT. Every now and then Spencer might whisper, "that hurts a little bit", but he was still smiling. Rachel and I in PT wanted to do something in honor of Spencer, so yesterday we donated our hair to Locks of Love. Hopefully this will help a child in need and put a smile on their face like Spencers. Today is painful for all of us, but I know he is watching over all of us with that beautiful smile that I remember. We think of Spencer, Rhonda, Gary, and Zachary often.
We love you!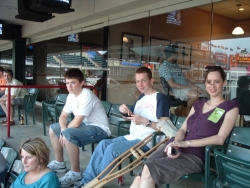 Lesley

August 10, 2008
One Year
Well, as the day draws nearer, it is becoming increasingly more difficult. Everything I see or hear seems to bring up some memory, new emotion, or some regret. It seems I am being bombarded with things he won't have the opportunity to do. He won't get to go to see the new batman movie with his friends, which he would have loved. Almost everywhere I go and everything I see, my first thought is he would have loved that, or it sucks that he won't get to do that. Late at night I can't get out of my head things that we didn't talk about. Nothing of real importance, I just wonder about whether I spent enough time just talking to him near the end.
Here is a list of his 'favorite things' I found while I was looking at his old blog today:
Four favorite words-ALL YOU CAN EAT
Watching a good Hockey Game
Buffet
Hearing a joke that I laugh at for a minute or more
Saving Private Ryan
Watching a movie at the theater
Hanging out with friends
Pizza
Finally coming up with a good idea for a list
When the metastasis was diagnosed, based on the averages, I thought we would have a year and a half to two years and he only made it about 10 months. We never had that "you have 3 months" diagnosis that would have forced us to try to squeeze everything in that we could. He would have hated that, the preparing to die part of it, and I would have not wanted the extra time if it had meant that it would have been 3 months of lingering in pain, but it seems like there were things I should have done with him or things I should have said to him that I didn't get the chance to. It went very quickly from things being normal (under the circumstances) to it being over. Maybe "I" needed that time period to prepare. Then the guilt sets in that I am feeling bad for myself for the things that "I" got cheated out of when he was cheated out of his entire future.

Maybe…hopefully…this will be the worst of it, but I doubt that will be the case. Every quiet and solitary moment I have has me tearing up and sometimes I get caught by surprise and they flow even when I'm in public and those memories and images begin flashing through my mind. I wish I wasn't being strangled by this overpowering sadness, I wish I didn't have the guilt and regrets, I wish he was still here.

Dad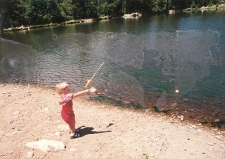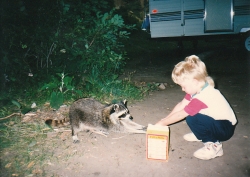 July 1, 2008

We just got back from Cimarron Canyon and we had a great time, but it didn't seem right being there without you. You and Zachary always loved going there so much. It just isn't fair that you couldn't be there with us, but everywhere we turned were signs of you. The first song that came on the radio when we got in the car to head out was "It's Not My Time" by 3 Doors Down. Then the first store in Eagle Nest we walk into and there are vases and platters covered in sunflowers that were made by the same folks who made the ones that decorated your Make A Wish Parade of Homes house. The yellow butterfly that hung out with us one afternoon at our campsite. Then on the way home the radio plays "When I'm Gone" by 3 Doors Down. Maybe we just shove random things that happen into that category, but sometimes there are just too many coincidences. Everywhere I turned I could see a memory of you. At the gravel pit lakes where you first fished with your little Snoopy rod and reels. At the campsite where you and Zachary fed the raccoons and climbed the "giant" mountain behind the tent. On the boat where you got so tired you stopped reeling in the fish you had caught but finally got it reeled in after several minutes. It was good to see some memories that seemed to have slipped away, but ultimately just sadness that we are left only with memories rather than you being there with us. I wish you and Zachary could have climbed the mountain again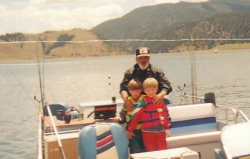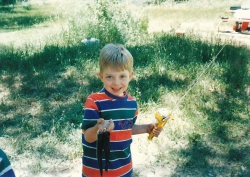 together, I know you would have found a way up the hill, crutches and all. I wish that Pepe could have taken us all out on the boat again, but cancer got him too a few months ago. I wish you could have had your pancakes at the D & D, but it was no longer there either. Many things had changed but what should have never changed is you being there with us.

Dad







June 5, 2008

The following story was sent to us from Spencer and Zachary's Mimi and was not intended for public viewing, but we were so touched by it that we asked and were granted her permission to post it here.

It is placed here in it's original handwritten format as it is just too personal to retype it. The first page is what their Mimi wrote directly after the dream, and the next three are from our request of what it might have meant. If the pictures are too small to read the writing, you can click on them to enlarge them.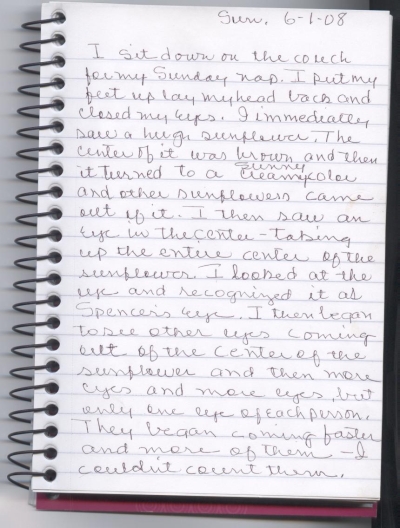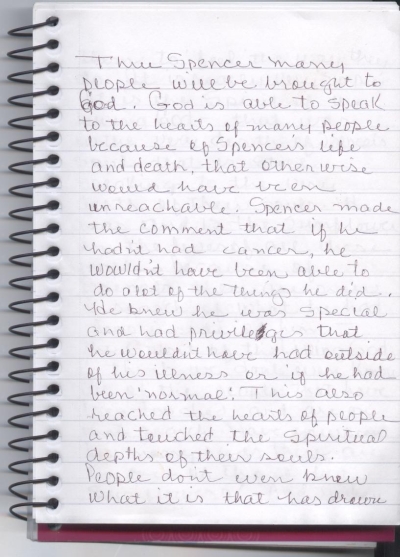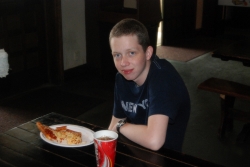 May 26, 2008


For some reason my mind has been flooded today with memories of that last day. The weekend prior to that Monday has become a blur, but I woke up today with so many pictures of that day in my head, and everything I saw or heard today reminded me of the events of that day. The entire story of that weekend is not ready to be told here yet, but the memories that came back to me today were very vivid. Zachary and I rushing up to the 10th floor not knowing if we would make it on time. Sitting there with you for the next few hours as you barely clung to life. Then you suddenly shot up in bed and said some very confusing things and were very particular about whether me or mom were allowed in the room with you, but most of my thoughts today were of you entertaining a hospital room full of your friends and family over those next several hours after you fought your way back from the brink. It is still amazing to me how normal you were, under absolutely horrible circumstances. You were the life of the party, finding a way to connect personally to each person in the room, making fun of me and most everyone else. Then you tired and were ready to go to sleep. I can't imagine how I whould have acted had it been me in that situation, but how I wished it would have been me. You sat there like you didn't have a care in the world, and nearly a year later I still can't get past the unfairness of it all. You were always the strongest one, if only you were here to help me through this part. The more days that go by the more I miss you, I thought it was supposed to be the other way around.

Love, Dad





April 6, 2008


we are all going to miss you and you played the best music

Katie Akins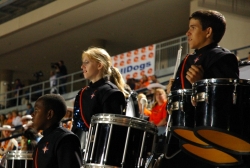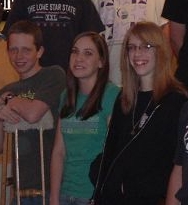 Feb 13, 2008


I miss you. Alot. I met you in 7th grade, but I didn't really talk to you that much. I really got to know you in 9th grade though. You would always call to ask if I wanted to play poker and football, and I was always up for it. Even though you were on crutches, you could still do everything that we did. You would even hold the door open for me, and it made me realize that you didn't want people to think differently of you. You had such a great personality and sense of humor, always cracking jokes about people and being sarcastic, but I loved that. I remember you said that as soon as you were old enough, you were gonna go on American idol. And whenever I came over, you were either singing or playing guitar hero, which you were soooo good at.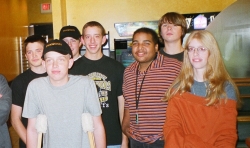 When Ashley called me and asked if I wanted to come up to the hospital on that Monday, I said I couldn't because I didn't have a ride. Now I realize I would have walked up there in my bare feet, swam across the ocean, through the desert, whatever in the world I had to do, if I had known it would be the last time I would see you. when Justin called me that night and told me what had happened, I couldn't believe it. At first I thought he was kidding. But when he said bye, my whole world was different. I slowly got off my bed, walked downstairs with such a confused look on my face. All I could do was stand there. I didn't know what to do. I just couldn't believe that you were gone, just like that. It just didn't seem real that I would never see you again. I remember the very last time I had talked to you. It was in the orchestra room, and I had just gotten back from my trip, I had gotten you a little figurine of like a dolphin, a surfboard and some waves. You had asked about my trip, I glanced at the clock and realized that if I had told you about it, I would've been late to band, so I said I'd tell you later. I never did tell you. You were the most incredible guy I had ever met, you never complained about your situation. I could write a book about how I feel about you, you are so important to me, always so nice, polite, and always up to do anything. You could make me laugh no matter what we were talking about. I'm so glad I met you, you've taught me so much, and you were an amazing friend. My poker buddy, my hero…my angel. I miss you. you will always be in my heart, an I will never forget you.

Jodi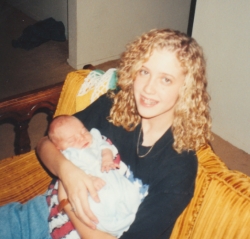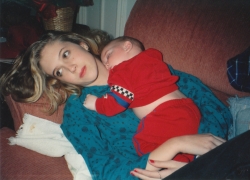 Jan 23, 2008


Starting this New Year I told myself that I was going to put this down on paper instead of holding it inside and keeping it to my self.

I remember you, your beautiful blonde hair, your smile so bright, and eyes full of hope and wonder. I remember you almost didn't make it home from the hospital after you were born, I remember being so thankful to God that you did. I remember the first time I held you in my arms and thinking what you were going to bring to my life and if I was ever going to bring anything to yours. I remember holding you, like I have held all of my nieces and nephews since but you were the first, up against my heart so you could hear it beat and fall asleep. I wanted you to remember that we were connected. I remember the way I saw my brother change into your father, it was a new light. I remember you swinging on the bench swing your father made for me when I was a little girl. I remember your mom sitting in Nanny and Papaws living room, you in your carrier, your mom sitting on the edge of the foot stool, you were going to have a baby brother. I remember you as a child, running, playing, you loved the water. I remember the day you hit your head on the corner of the wall, the perfect line you made right down your forehead, you were always the perfectionist, I remember the stitches.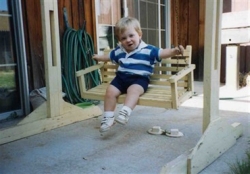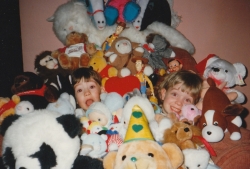 I remember when you were little babies, I remember your mom recreating that scene from ET, where she had you both surrounded by stuffed animals and she would take your pictures. I remember New Mexico, you and Zach always playing together always laughing, always in your special way that the two of you had and I am not sure that any of us will ever understand the bond you boys built with each other. I remember breaking my nail, and we went to the "nail hospital" I remember the teasing I got from you boys about it, I remember thinking at that moment you were "Taylor's" and you got it from my Bubba.

I remember when your knee hurt, I remember your family moving to Dallas, I remember when they called and told me you were sick. I remember Mothers day 2005, I remember getting on that plane and leaving you all behind, wishing I could stay. I remember when you got better, I remember when it got worse. I remember Spain, I remember France, I remember your mothers face of contentment while we stood on that rocky shore to see you near the water. I remember Italy, you touching the coliseum, you eating the pizza, and breaking your curfew. I remember that trip. I remember the phone calls, I remember that day. That day will forever be on my mind and in my thoughts. I remember your smile and your laughter, I remember YOU.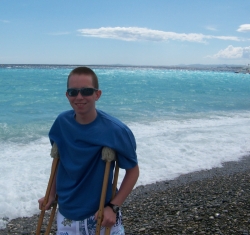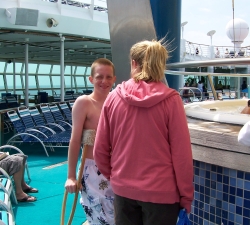 You asked "what have you been doing since our trip?" I didn't have the heart to tell you that my world had fallen apart since we had been home, I wanted to make you laugh. You did. I remember that night, I remember wanting to hold you again like I did when you were a baby, close to my heart so you could remember our connection, and know you were not alone. I remember that you were and never will be alone. I remember driving back to your house with Zachary. I remember being there in your house. I remember the hugs, tears, love is what I remember. But I remember you more clearly now then before. I see you in a different light, I wish I would have known then what I know now. What thoughts were going on inside your head? I may never know the answer but I remember.

I will always remember, I will never forget, I remember.



Aunt Stef



Jan 21, 2008


One of my coworkers was telling me the other day about a Caribbean cruise he and his family were about to go on. He had just found out that they would be on the same boat that we had been on for our Mediterranean cruise. He was asking about the size of the rooms as they were going to be in an interior room and I told them that because Make A Wish had booked everything for us we were able to stay in a balcony room. He said yall were lucky, and then immediately realized what he had said. It was a natural thing to say and certainly didn't upset me in any way, but it did remind me of a conversation we had with Spencer and Zachary during the last school year. We were all sitting in the office and Spencer and Zachary were talking about a school project that Spencer had just turned in. The project was to write a paper discussing what you would change about yourself and why. Zachary had asked him what he put down, and in what was always Spencer's way he said "I wrote I wouldn't change anything because I am perfect". They discussed a few more things each thought should be changed about the other and then Zachary said "What about the tumor, wouldn't you change that". Spencer thought for just a second and then said "No, the tumor has given me more that it is taken away." There was another time when we were driving back from something that Make a Wish had set up and he had said something about being lucky having the tumor because of some of the things he had gotten to do. I remember both times they had talked about stuff like that my stomach turning over, as we would have changed anything for him to not have cancer. It also made us wonder if he truly knew what he was up against.

As things began to take place we became aware that he knew exactly what was going on. It was evident in conversations that he and Rhonda had that weekend as they were going back and forth to the hospital, and it was evident to me in the list of songs he had compiled in the month leading up to that weekend. Yet even that last day he sat around entertaining the friends and family that had come to the hospital to see him, he seemed calm and even normal. There were a couple of instances where it appeared that he was a little scared, but towards the end of that day when everyone was getting ready to leave and Rhonda asked him if there was anything else he wanted to do, and he said "I just want to see more of my friends at school". Rhonda told him "when we get home tomorrow we will call them and have them come over".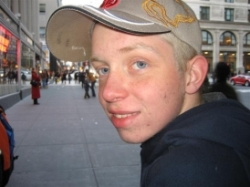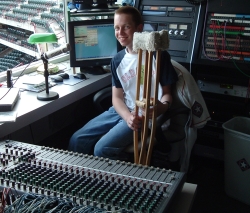 There are times I still wonder if he really knew what was going on, because I can't imagine myself behaving that way if I were in his shoes. I think I would have many regrets, where he seemed to only be upset that he couldn't spend time with more of his friends. I would imagine I would be very angry, yet he always seemed to have that little grin on his face and be looking for a way to make other people happy. I wish I knew where his strength came from because I could use a big dose of it right now. I wish I knew how he always stayed so happy because I can't remember the last entirely happy day I had. I guess I will never stop being amazed that he and Zachary were able to go through the whole thing seemingly without a care in the world. Hopefully, someday, I will be able to summon some of their strength so it will stop hurting so much. I miss you.

Dad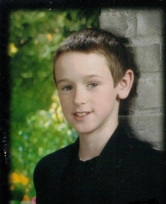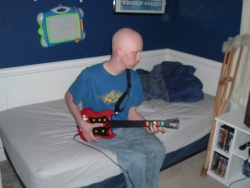 Jan 15, 2008


He got me into cars and guitar hero he was just like a brother to me and so is zach.

Jonah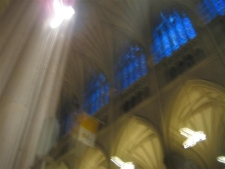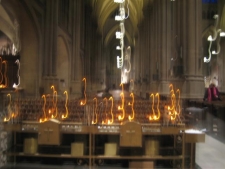 Jan 6, 2008


Spencer, I took my glasses off on the bus today. The neighborhood where I work, the problems my students and I face can be shattering sometimes. Today ended in fragments. Outside the window, the flashing lights, strings of traffic, the mountains of trash, the broken glass, myriads of people – they all became a blur without my glasses. A comforting blur. Of all things, I was reminded of some pictures you took in St. Patrick's Cathedral when you were with me here in the city. They were strange, unfocused. Blurry. When you showed me, I said the blurriness was rather comforting. You said nothing, of course. Just gave me a subtle smile. This blurriness has invaded my internal clock since August. I have found it impossible to articulate or express a memory, for when I sit down to write about you, my mind becomes blurry and heavy. Details and memories swim together in a tangle – a growing embryo of thoughts unexpressed writhes uncomfortably, growing within my mind. I have been frightened, so I avoided this blurry tangle until today on the bus. The heaviness lifted, and I gave birth and life to a moment of comfort. So, I finally was able to write.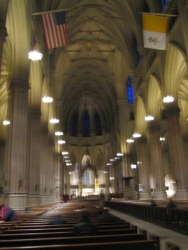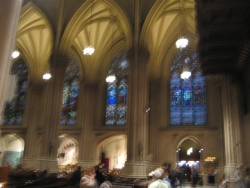 My aversion to sunny days has grown worse within the city. I remember laughing with you about how we both were criticized for being drawn to cloudy days and rain, but we never really talked about the reason for this attraction. When I got off the bus today, I put my glasses back on. I was relieved to see beautiful, heavy clouds rolling overhead. Sleet and rain began to lightly fall, and the chaos of the city began to lose its focus. I smiled, subtly, of course. Again, I found a moment of comfort and understanding. Sunny days can be so unsettling, for the sun has a brutal way of exposing flaws. Rain, clouds, sleet, snow – such weather embraces this blurriness, this lack of focus. By covering, smearing, blurring – perhaps they lessen the blow of reality.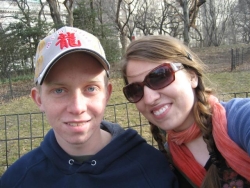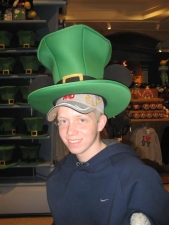 I don't know what you intended by those pictures and that subtle smile in the cathedral that day. Your often quiet manner of expression and explanation has become silent now, and so many of us are left with, different memories, different questions, but all with a new perspective that we may – no, we must, rather – find answers within. I don't want to impose my memories upon everyone, only share how I am learning to find meaning and assistance from reliving the past. Reliving the past with you.

I love you. I miss you. Always.

Monica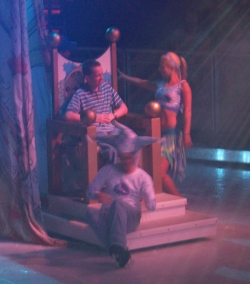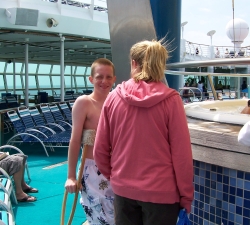 Nov 14, 2007


I heard a song today, "I Hope you Dance" by Leann Womack. I remember one day the boys and I were in the car and that song came on and I said, "This is my dedication to ya'll, no matter what, always choose to dance". Of course that led to a more extended discussion, most of it where the boys were laughing about me saying that, but at some point it ended up with me saying, "Life lesson number...".

It had become a running joke among the boys and I. We would be somewhere and something would happen and I would say, "Let that be a life lesson. Alway's remember...". One day I said that and one of them said, "Mom, do you really expect us remember all of these?" Of course it was asked in a joking sarcastic way, but I said, "Of course. I guess we should start numbering them, so from now on I'll say, Life lesson number 57, or Life lesson number 376, so I guess we need to go back and write down all of them and see what number we're on, do you remember all of them?" Of course they just laughed at me, but from then on when I would say, "Life lesson", it was followed by some random number. I always told them, "you'll remember them when you need to."

This last summer the doorbell rang. I opened it and there was this gorgeous girl standing at the door, and she said, "Is Spencer here?" I called Spencer down, and he went to the door, said a few words to her, closed the door, and came into the office and said, "Is it ok if I go to Jessica's birthday party?" I said, "Was that Jessica?" He said, "Yea, can I go to her party?" He had an invitation/picture thing in his hand and I looked at it and said, "Spencer, is this her Quinceanera?" He said, "I don't know" I said, "You need to find out, I bet it is, and that's a huge deal". He called her and came back downstairs and told me, "Yea, that's what it is." I was like, "oh my gosh" and then we went on to talk about what a Quinceanera was.

Anyway, the day came, Spencer got dressed up and Gary took him up there. The ceremony was supposed to start I think around 5:00-7:00 and then they were going to have the dance from 7:00 until 12:00. The truth be told, I really expected a phone call from Spencer around 7:30 for me to go and pick him up, but 7:30 rolls around, no phone call. 8:30, no phone call. 9:30, no phone call. Finally, around 11:30, I just went and sat in the parking lot. Surely the phone wasn't working and he was just sitting up there waiting for me to pick him up. Well, I sat there and sat there. I saw everyone leaving and kept sitting there thinking, "where is he?" Finally, about 12:15, here comes Spencer. He gets in the car and I said, "Did you have fun?"

"Yea, it was ok". Okay...

"Did you know anyone?"

"Mom, I knew Jessica" Okay...

"Was there anyone else there you knew?"

"There were a couple of people, but they left early."

"I really thought I would hear from you around 7:30 to come pick you up"

"Oh". Okay...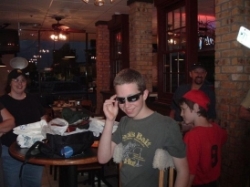 Anyone that knows Spencer knows that you have to drag most information out of him. But I figured it must have been a really cool night for him to stay so late, but of course, no emotion. So I asked, "So what was it like, what did they do, who did you sit with, what was her dress like, did you eat..." "It was cool, they had a ceremony, her dress was like a wedding dress, there was a huge cake, kind of like a wedding cake." I said, "So who did you sit with?" He said, "there was alot of people, I sat with them". "You didn't know any of them?" "I did when the night was over". I was just amazed. Where did this kid get this confidence to go and sit amongst a group of people all night that he didn't know. Incredible. He had a great time that night, he finally ended up talking about it a bit, but of course, like everything else, it was all, not really a big deal.

I got a chance to talk with Jessica after Spencer passed away. She was telling me how much fun they had that night and she had been planning on having a party for everyone to watch the video. She wished Spencer could have gone to it. I said, "Yes, he seemed to have a good time. I really thought he would call me to pick him up early, but when he didn't, I knew he was enjoying himself". Jessica said, "Oh yea, he was having a good time. He was dancing...ect, ect." She got me at dancing. Spencer never told me he danced. That made me happy.

Life lesson number 742, if given a chance, always choose to dance. Spencer did. He remembered the life lesson when it came up.

Spencer, I've told you a million times, but I'm proud of you. You danced....that makes me happy.

Mom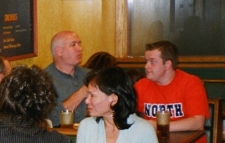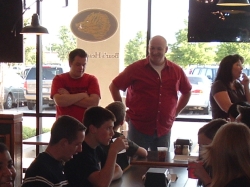 Nov 14, 2007


I have known Spencer for a long time. My father and his father have worked together for a while and it seems that anytime they would move or we would move, we would always meet somewhere. More recently McKinney, TX. The most recent memories are of two things. The first thing is at McKinney North High School of him coming down the hallway towards his Algebra class and me leaving Pre-cal. Him coming down the hall with a big grin on his face, seemingly realizing the beating I had just received from the period before. " Is that class kickin your butt???" he would say everyday and the same reply would follow... "HECK YEAH, all thanks to Mr. Horne!!!". He would laugh, I would shake my head in dismay, and we would go to the next class The other is more of a set of a few that we, as the Taylor and the O'Hair families, would get together and watch the Cowboys have another bad game (before the 06 season) and we would talk about how Rhonda was sitting in the big chair and that's why OU was playing so poorly (she is very superstitious about her football) and had just squeaked by with a close margin win the day before. And out from the silence would come " they just aren't any good!!!" as he was naturally going against the crowd, and he was a HUGE Oklahoma State fan. The personality of a young man such as himself could be looked on by all others and learned from. He had a smile on his face at all times, well except when my little brother accidentally erased one of his files on the PS2 memory card, but that was understandable; I would have tried to kill him as well. But even through the rough times that his entire family endured he was a great son, a great brother, and a great friend.

We all miss you.

Chris O'Hair





Oct 18, 2007


Seeing the picture of Rhonda reading to her two boys on the library floor at Matheson Park, made me realize I really wanted to share a fond memory that I have of Spencer. He was in first grade with my son in Mrs. Sandoval's class, and it was the classes Valentine's Day party. I had made heart shaped cheese sandwiches for the party, and it was time for the kid's and their families to go through the line to get food. It was Spencer's time to get food, and when he came up to the table, he paused, so I asked he if there was anything I could help him with. He looked at the heart shaped sandwiches (there were only two left), and asked in a very polite way if he could take two. I said of course, you must like cheese sandwiches? He replied "no, I want to give them to my mom and brother." This was just a small portion of the kindness and thoughtfullness that I saw in Spencer. Even in first grade I knew this young boy was special, and knew he would have a profound purpose in his life. He has touched me in more ways then I'll ever be able to describe. This sincere tribute is for you, Spencer. Thank you for touching my life in a way that has changed me forever.

Teri Johnson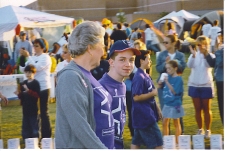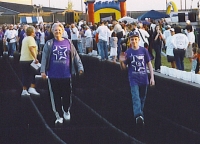 Oct 15, 2007


The Memory I have today is of Spencer's first Relay for Life. It was nearly a year after his first diagnosis and surgery. After the surgery to remove the tumor, Spencer's doctor told us that Spencer would likely never walk without aid again. He said that his leg would likely never straighten out completely. Spencer was determined to not be stuck with crutches the rest of this life or even be stuck using a brace to walk. Spencer had spent the previous year in physical therapy, and had begun to walk without crutches and just shortly before relay and convinced his doctor to let him walk without his brace. As Rhonda, Spencer, Zachary, and Justin got to the relay around 6:30pm, the plan was to see the opening ceremonies, walk the opening survivor lap, hang out for a little bit, then go home and get some rest. What I think we didn't realize is how big of an event this would be in Spencers mind. Because this was a "walking" event and that is what he had been battling for the last year, it took on a whole new meaning for him. As he was handed his medal and purple balloon and headed to the track to take his place near the end of the group (one of the curses of having a last name that begins with "T"). He was walking with Patricia, one of our other survivors at the store who said she would walk with him so he wouldn't be out there by himself. They took off and started heading off around the track behind the Mckinney Motorcycle Cops and in front of the McKinney High Marching band along with the nearly 200 other survivors and we watched as the group headed around the track waited for them to get back around to where we were standing near where they started. As they made the final turn heading back towards us, we noticed Spencer and Patricia way out in front of the entire group. I guess Spencer decided that not only was he going to walk, but he was going to walk faster than anyone else. Everyone ended up staying the whole night, I don't know how many laps Spencer walked, but we would see him walking around the track at different points throughout the night, and the rest of the time he was at the Texas Hold em fundraising table. This type of behavior is why we always had hope. We never saw anything beat Spencer. He always just kept on going like nothing was wrong with him and just went through every day like everything was just normal. He never gave up and always believed he would win, he was even talking about his next treatment that last weekend. It seems the more that time goes by I miss him even more.

Dad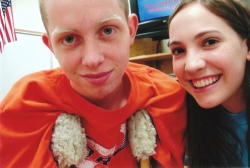 Sept 24, 2007
Dear Spencer, I miss you so much... Its hardly even been a week but I've cried so much over losing you. You were such a strong person and such a great friend. I've never met anyone who had as much joy as you did. When you were sick, when you had to miss school for doctors, and even when I saw you that Monday and you weren't doing so great I never heard you complain. Never in the entire time I knew you. That inspires me. I want to have the self confidence that you had. I want to be able to laugh about life even when it sucks. Spencer, I want to be a lot more like you.......

I had so much fun getting to know you. You came to hotspots with me, and to D-Now at my church... and even though you couldn't always play the games we were playing, you still looked at me and told me to not sit out with you and to keep playing.......

I remember when I first met you and I thought that you needed help sometimes because you were on crutches.. Boy was I wrong. You never let me hold the door for you - I was never allowed to help you carry anything. It made me realize that you didn't want me to feel bad for you... and I thought that was pretty cool..........

I had fun visiting you in the hospital. haha... You, Justin, and I had some pretty awkward conversations.. I love awkard moments..
*awkward turtle* =] ...and then of course there was the lemonade in your room. lol........

I remember going with you to movies, bowling, and playing poker... hah I dont think you liked playing poker with me because I never paid attention and I always cheated.. sorry about that..........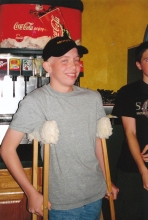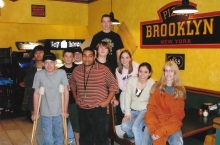 Ohh.. you told me all the time I talked to much.. and so finally when I stopped talking for a week you kept telling me to talk more. hah =]...........

My favorite memory with you is when you called me.. hah I remember word for word that conversation. I felt kinda bad for what I ended up telling you.. but it all worked out.. anyways I hope I never hurt you. :-/ --ohhh and don't worry. I definetly kept that conversation a pretty good secret..........

So, I'm sure I'm forgetting some very important memories.. but I can always add them later. I'm so glad God gave me the chance to get to know you. You really impacted my life and I'm never going to forget you for that. You were one of my best friends. I love ya Spencer.


Love,

Ashley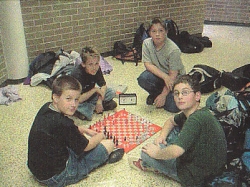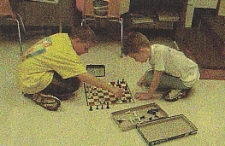 Sept 18, 2007
I met Spencer in the 3rd grade as his teacher and then 4th and 5th as his talented and gifted teacher. And that he was! He was a bit shy in 3rd grade, but I saw a funny, smart, wise boy. Spencer was one of those students you never forget. I must say he taught me so many things. He and Zach would come to after school Chess Club while Rhonda finished her day working at our school. I never really knew how to play Chess, so always called on Spencer to help the others. It was our private joke.

Karen White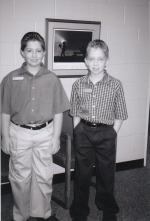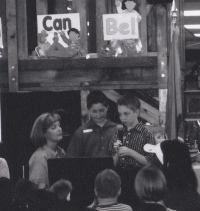 Sept 18, 2007
I remember when we lived in Albuquerque, the boys always played in the garage. One day, Spencer was out there and he was riding his tricycle and just talking away. I stepped to the door and said, "Who are you talking to?" really just thinking he was just talking. He told me, "Don't you see the angel? Look." He pointed and said, "Mom, don't you see the angel?" I did look, but I didn't see. A couple of years later, it was right when we moved to OKC. Spencer was about 6 or 7. The boys and I for some reason had slept on the floor in the living room. In the morning, I woke up and Spencer was sitting on the couch looking at me with this little grin on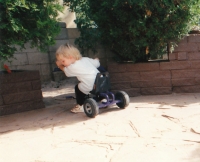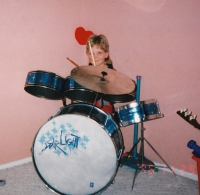 his face. I said, "What?" He said, "I see your angel." I was a bit stunned but played it cool and said, "Where?" and Spencer said, "She's right at your head". I said, "Oh." I mean, really, what do you say to that?!! I finally said, "I have a lady angel? What is she doing?" Spencer said, "She's just smiling". I didnt' want to make a big deal out of it, so I just said, "Cool." Later on that day, I asked him about it again. I said, "Spencer, so when you saw my angel, it was a she?" He said, "yes". I said, "So can you describe her? What did she look like?" Spencer said, "She has red bumpy hair." I asked, "was she wearing anything, was she in white, did she have clothes, what else did you see?" Spencer said, "She had on a really long kind of light blue dress type thing". I was really fascinated, I asked again, "so when you saw her, what was she doing?" He said, "mom, she was just at your head and she was smiling", and he was finished talking about it. It was something that just was. I remember that day, everywhere I went, everything I did, I just wanted to say, "ok, come on, I'm going to go here now. Ok, come on, I'm doing this now" I asked Spencer just not too long ago if he remembered that. He didn't. I think back on that now and I don't know if maybe he was always a little closer to heaven than we all knew. Maybe even back then, God knew I was going to need my own personal angel and He wanted me to know I had one...right at my head.

Rhonda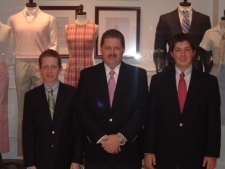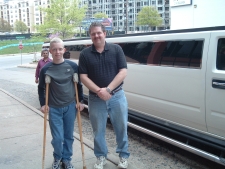 Sept 12, 2007
I have been reluctant to post a memory or story yet because I can't seem to recall any memory of Spencer beyond the past 12 months. I don't know why, but there seems to be a block at the point where he was rediagnosed. I thought I would go ahead and post this one because it is the one that keeps coming into my mind. It was June 11th and we were at Childrens visiting with Dr. Leavey. This was a particularly difficult visit for us as Dr. Leavey was trying real hard to get Spencer to stop treatment as our options for treatments was limited and carried some serious risk. As I was trying to rationalize between the risk of treatment and the unlikeliness of a cure I compared it to the lottery, to which Dr. Leavey replied that with the lottery we had a chance and with this there was no chance. I felt like I had been kicked in the gut. As we were leaving the room and heading for the elevator, Spencer looked at his watch and said "it's 9:45 and Chick-Fil-A stops serving chicken minis at 10:30, we need to hurry". This was how he handled nearly every part of this process. He and Zachary were always the ones that helped pull Rhonda and I through, by telling a joke at just the right time when they could tell we were having a difficult time coping, or by just finishing up one part of the process and just moving on to the next. Spencer spent very little time worrying about how the disease was affecting him or what the outcome would be, it was always just pick a new treatment and move on. Now when we need him the most, when we are having the most difficult part to deal with, he is no longer here to help us and that just makes me miss him even more.

Dad





Sept 12, 2007
I didn't know Spencer but knew his sweet dad and kept up with his progress thru Gary. I feel like I knew him and after listening to his "special CD", know that young man knew some fantastic music. He knew it would bring comfort and smiles and memories to all of us even if we didn't meet him face to face. I now have some good music to listen to at my desk when working and will always think of Spencer when listening to it. My prayers and thoughts continue to be with all of you and know that when you think of Spencer, there are smiles everywhere.

Marla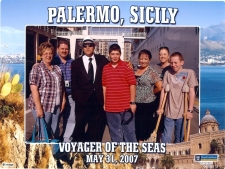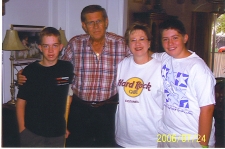 Sept 11, 2007
Just a few days ago I was going thru some of our old VHS tapes and the title was Rhonda, Gary & Boys in '95. It was you Spencer and Zachary playing with Aunt Stephanie and you both wrestled her down tickling her on the floor and you all three were laughing. Spencer your hair was long in the back. It was so you back then. ha! You and Zachary ran up to Papaw and stuck out you index finger at him and said, "Pull my finger Papaw!" You both laughed so hard and so did we.

You both mean so much to us and I am so blessed to be your Nannie. I want you to know that Nannie's Dream came true on our trip to Italy. Those memories mean more to me that you will ever know.

Your Nannie Taylor





Sept 9, 2007
My very first memory ,of Spencer, was the day he was born. I walked in the hospital room, in Midland, Tx, and saw this tiny baby in an incubator......the first born of Gary and Rhonda Taylor. He had his face turned in the other direction from me and when I started talking to him, he immediately turned his head toward where I was standing . I don't know how well newborns can see...but he looked right at me. He was communicating in the only way he could , at that moment, by turning toward me and recognizing that I was in the room. That never changed. What all of us know, from being around him, is that he has a special 'gift' of relating to people......sometimes in a very quiet manner. He has friends of all ages and from different backgrounds and has a 'way' of making them feel like they are his friend........and they are...all of them. So... He 'cuts and jabs at you'....that means he really likes you. :) I just tho't he has something 'special' ( since the very first day in the incubator ) in the way he relates with people and I wanted to say " Hey Spencer , you have made a big impression on all of us who know you and we all know that you are still 'relating' to all of us."

Love always from Mimi ( Rhonda's Mom )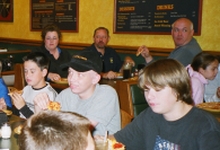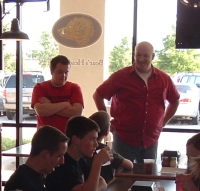 Sept 7, 2007
I just want to thank you both, Spencer and Zachary, for putting up with our not-so-little sons. They all consider you two as their brothers. Thank you, Gary and Rhonda, for sharing your sons with our family!!

Bruce & Patty O'Hair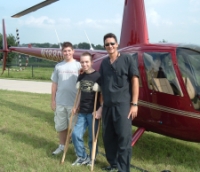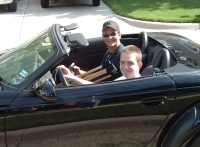 Sept 4, 2007
Gary, Rhonda, Spencer and Zach,

I am compelled to address the Taylor family with Spencer's name in it's chronological space, you know as well as I do that he is still with us. I don't know if you knew that my father passed when he was 48 in 1989 and consequently he wasn't able to physically attend my wedding. I wrote him a letter and had it read aloud anyway and it said "... although my physical time had been cut short with my father, the love that we SHARE (present tense) was not. If you look in my eyes and in my brothers smile you will know he is here with us." Well, I feel the same about Spencer. I have experienced a beautiful pain that keeps an appreciation for every moment of life, of love, of loss and of triumph because of a young man the Taylor family shared with me, Spencer. I will continue to experience Spencer for the rest of my life. God has made Spencer's presence known to me so many times since they started hanging out together in heaven. Like unavoidable rain on a silly old bucket of bolts car. Like the frustrating day I had to get some customer service from a person on the phone and a pleasant guy comes on the phone to ease my soul and says " Hi my name is Spencer how can I help you ?". Like the day my family was running late for an event and we had to stop at a store to pick up a gift and as I parked the car in the only available space, I look up and we are parked in front of a store named Spencer's. I have had incredibally gracious cards sent to me from family members and I see pictures of Spencer at both my work and my home everyday of my friend, Spencer. I commited to doing another triathalon just after Spencer passed because I think Spencer was proud of my Ironman finish and I needed an avenue to channel some energy into. Well I didn't have time to go through the conventional training but that is pretty typical for me. I am also not the conventional guy who shows up with all the "typical" correct gear for the event. I had to turn back home to get my goggles before it even started and then with about a mile left on the bike before my run I realized I had forgot to bring any shoes to run in. The best part though was that I had decided to write "FLY SPENCER FLY" accross my chest and I must have heard a hundred strangers yell "Fly Spencer Fly" throughout the event. When it was hard to breathe I thought about how hard it was for Spencer to breathe that great afternoon and I just pressed on to Finish the race. I wound up with my best finish ever and I even got second place in my division. I couldn't have done it without Spencer. When I see the pictures of Gary, I see an image of the wonderful man and father Spencer would have been. When I see pictures of Zach, I see glimpses of the wonderful young man Spencer was. When I see pictures of Rhonda I see the incredible LOVE that Spencer IS. I will always hold my children a little longer, I will always forgive the tresspasser a little sooner, I will always be more grateful and compassionate, I will always Love deeper, I will smile more often and I will always remember my friend, FLY SPENCER FLY!!!!! You can see a picture of me flying with Spencer at the Rockwall sprint Triathalon www.celebratedimages.com my bib # was 128.

Mark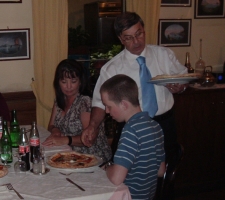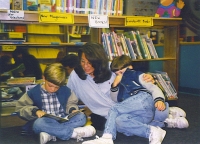 Sept 3, 2007
I remember when Spencer was in Kindergarten when we lived in Albuquerque and I was up at the school working on something one time and I see Spencer. He was not in class, by himself, just walking across the courtyard. I just sat and watched him. He was of course oblivious to the fact that I was there. Later on that day, Zachary and I had gone to work in the library and Mrs. Beckner the librarian said, "I hope you don't mind, I had Mrs. O'Grady send Spencer over here this morning, there were some things we were trying to do on the computer that we couldn't figure out and I knew he could help us". I said of course that was fine, but I remember thinking, "How does Spencer know? We don't even have a computer at home!" To this day, I don't know how he knew how to help them but he showed them how to do whatever it was they were having trouble with.

Rhonda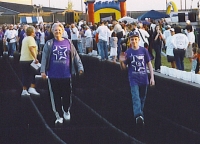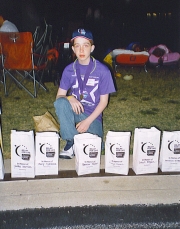 Sept 3, 2007
I am adding this because it's something we will always want to remember. I talked with Mr. Spina the night of the viewing and he told me that Spencer changed him in Spencer's very quiet unique way with one simple question. Thank you for sharing this with us.

"I had the privilege and honor to have Spencer as a student in 8th Grade Science. He had a great mind for science and was truly admired by his peers. Over the course of our year together I became a student of Spencer's. His greatest lesson to me was the day he asked me at the end of class if I would be attending the Relay for Life. Prior to him asking me, I had no intentions of going and I told him that I would think about it and he left without saying anything else, but his simple question made me understand that serving others does not stop at my classroom door. I went to Relay for Life that night and the next year started a team at Dowell and have been involved every year since. Thank you for giving me that gift Spencer."

Frank A. Spina